OVCDC Bishop

The OVCDC Bishop Site is located on the corner of Barlow and Diaz lanes within the Bishop Paiute Reservation and provides a variety of program services to the Bishop Community.
PROFESSIONALISM •  INTEGRITY  •  TEAMWORK  •  LEADERSHIP  •  RESPECT  •  COMPASSION  •  NATIVE CULTURE
Programs offered at the Bishop Site
The Bishop Site is also the Main Headquarters of OVCDC. The Bishop Site includes the following OVCDC offices, Administration, Finance Department, Human Resources Department, Intergovernmental Affairs Office, Information Technology Department and the Facilities Department. The Bishop Campus also includes the following programs; Bishop Tribal TANF, the Tuniwa Nobi Family Literacy Program the Nuumu Yadoha Language Program and the Career Education Program. Sub-Recipient Partners Bishop Paiute Tribe, Bishop Indian Education Center and Big Pine Paiute Tribe.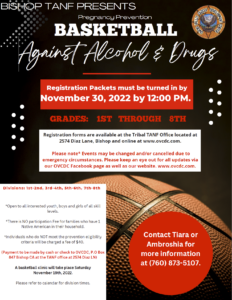 Registration Packets must be turned in by
November 30, 2022 by 12:00 PM.